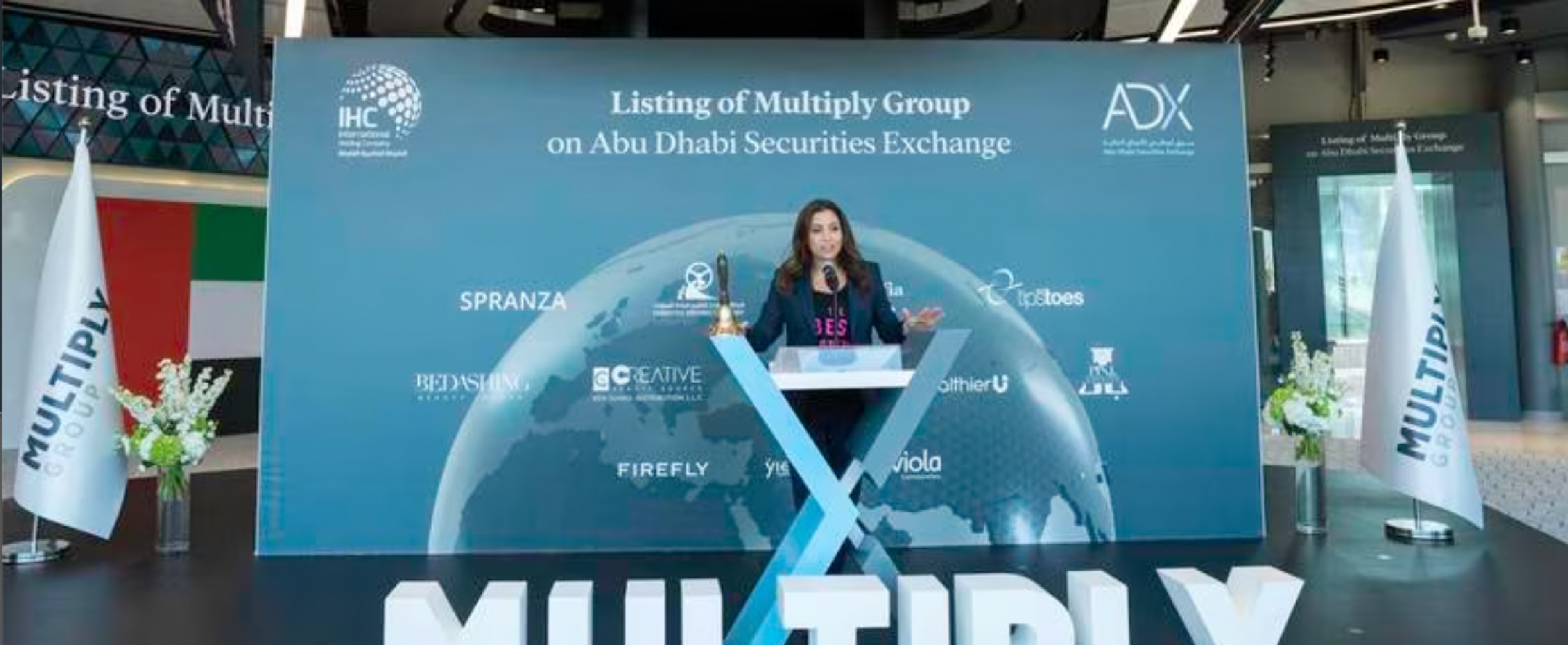 News
03 May 2023
(The National) - Abu Dhabi's Multiply Group aims to double its net profit this year from companies where it has a controlling stake, excluding fair value gains or losses, as it explores the possibility of listing some divisions, its chief executive said.
The technology-focused investment holding company's net profit excluding fair value losses in the first quarter reached Dh266 million ($72.4 million), marking a 241 per cent annual growth, it said in a statement on Tuesday to the Abu Dhabi Securities Exchange, where its shares are traded.
Multiply reported fair value losses of Dh265 million in the three-month period, with the changes "largely unrealised".
Overall, the amount attributable to the owners of the company during the first quarter swung to a loss of Dh36.8 million, compared to a profit of Dh290.5 million in the same period last year.
"My focus is on two things, doubling the net income or the profit that comes without fair value through profit and loss from the companies where we have control," Samia Bouazza, who is also managing director of the group, told The National.
"This can be organically or inorganically — either you go to Saudi [Arabia], you go to the [US], you expand and you bring us the money or you go you acquire your competitor, you acquire your second-best, you acquire a technology — this is what every CEO is working on.
"Similarly, we have an opportunistic arm. And we are looking now if valuations continue to be soft around the globe. We have the cash. We are constantly looking [for opportunities]."
Multiply, a subsidiary of Abu Dhabi's International Holding Company, was listed on the ADX in December 2021 through a private placement deal that raised Dh3.1 billion and was 16 times oversubscribed.
The company has been investing across its two units: Multiply and Multiply+.
Multiply operates and invests in four verticals, including mobility, energy and utilities, media and communications, and beauty and wellness.
The company is also planning to launch a new business division either this year or next, which will focus on fashion, Ms Bouazza said.
Meanwhile, Multiply+, the group's sector-agnostic investment arm, seeks to target double-digit returns across several asset classes.
The group's investments include stakes in businesses such as Emirates Driving Company, Viola Communications, Abu Dhabi National Energy Company, better known as Taqa, the Dubai Electricity and Water Authority, Borouge and Getty Images.
"[We are also] preparing to have our verticals to go for an IPO [initial public offering] on their own once the right time, scale and fundamentals are ready," Ms Bouazza said.
"If you look at what we've done with media, for example, we are 100 per cent owners of Viola, the only partner of Abu Dhabi government for outdoor signage … and we went and bought the largest in Dubai [Media247].
"That makes us the largest consolidator of out-of-home assets in the UAE.
"With a couple more acquisitions, that gives you a unique proposition where you really provide a 360-degree media solution to companies and you start to grow regionally."
However, she also said that the group is "not in a rush to go and IPO for the sake of it".
"Fundamentals, corporate profitability, the right valuation and macro conditions are needed to do things right," Ms Bouazza said.
Meanwhile, Multiply's revenue in the first quarter rose nearly 12 per cent to Dh269 million, while assets rose marginally to Dh41.44 billion from Dh41.20 billion at the end of December.
The company said it has access to more than Dh1.2 billion in cash and Dh6 billion in financing capacity, which it will use to expand.
"Depending on the sectors, India is very interesting," Ms Bouazza said.
"In the US, there are some very solid companies that are looking to delist or that are available at a discount with very solid disciplined management and very good fundamentals. We are looking at private companies that need the cash because they want to digitise.
"A lot of good opportunities are happening in the UAE. That's something to always consider, where we have similar culture and the post-acquisition fit would be easy."
While the fair value loss in the first quarter was driven by its investments in public equities, the group remains bullish on the sector.
"We are still believers in the long-term growth and profitability of those companies," Ms Bouazza said.
"Overall, the Dh12 billion we invested in public equities has reached Dh33 billion. So that tells you we've done some very good decisions in the long run."
But the company's focus remains on growing its core assets where it has a controlling stake.
"I'm recalibrating the balance to ensure that more and more of our income comes from operating companies where we have a majority stake, where we can control, create efficiencies, digitise," she said.
"This is what I can control. These are the targets we set ourselves to achieve."
View